Our clients, the Owners, have a long list of renovations for their newly purchased home. 
When they got to "replace old sliding garage door" on their list, they gave us a call to get that project started! 
Below you can see the exterior and interior of their dark,existing wood garage door. These doors are easily over 30+ years old!
The challenge of this project was really removing the center support that was built in to the existing garage door structure, and reinforce the header of the garage structure itself. 
Once we removed the old door and made the necessary structural improvements to support the garage header, we were ready to move on to installing the new door.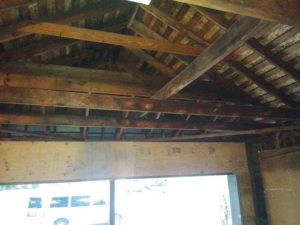 We installed some plywood on the header, as you can see above, as well as on the sides to make the garage door a bit nicer.
The Owen's chose a 25 gauge garage door. This door is durable and will hold up to the hot LA summers. 
We also installed a brand new garage door opener by LiftMaster. The Owners went with the LiftMaster 8355 belt drive opener. Belt drive openers are quieter and are low maintenance, so it's a great choice!
The results of this project are really amazing!
The Owens' can now park their car inside (imagine that!) and their door opens with a push of a button, not their brute strength of their bodies!
Best of all, they've checked this big project off their list!
And look how great their new door looks from the outside and inside!
The addition of the upper window panel offers some great benefits, including a more custom style, and great natural light inside their garage. The white garage door also makes the exterior of the Owens' home look brighter and fresher than the dark wood door they had before.